If you need to install new pipe and cables, or replace burst pipes and faulty cable, then moling is the most convenient way of installation.
What is Moling? 
Moling is a way of installing/replacing pipes and cables that allows contractors to avoid disturbing road and landscape surfaces, which typically happens when digging a trench.  This in turn minimises traffic disruptions and any related traffic management plans. It also eliminates the need to reinstate these surfaces once the job is completed, saving time and money.A Grundomat is a cost-effective tool which has multiple functions from moling to micropiling.The tool itself relies on an internal hammer action within a torpedo-shaped cylindrical steel body. The hammer may be hydraulically or pneumatically powered. During the moling operation, the soil is displaced, as the "mole" forces its way through the soil along the desired path of the pipe. It is important that the existence of underground services is clearly researched prior to commencement of any works.
The Moling Procedure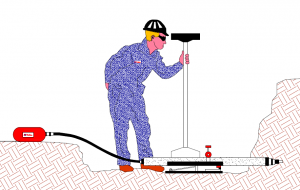 The basic method of moling is to excavate an area about 1m square to a depth of 2m (where the sides of the trench are stepped or supported). The mole is then placed against the horizontal face at the bottom of this hole and leveled accordingly. Depending on site conditions and surrounding services, an end point should be chosen where the mole emerges. A similar excavation as explained above takes place here. As soon as the site is prepared and the system set up, pulsed compressed air causes the head of the mole to repeatedly hammer against the soil in front of the mole.
Dependent on the ground conditions an unsupported bore may be formed or a pipe or cable may be drawn or pushed in immediately behind the impact mole. Moling is generally only suitable for soft to intermediate soil for distances up to 20-30m with a diameter range of 100 to 160mm.
Contact us about Moling?
If you are in the public sector, a developer or a contractor, and you are considering working with us in relation to moling or burst pipes, or any of our ancillary services, contact us in our Dublin office on 01 6310300 or in our Cork office on 021 4345999.